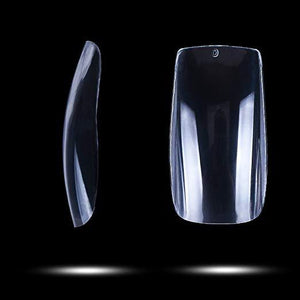 CLEAR FULL COVER GEL TIP® Soprano/Square (Long Length) REFILL PACK
the gel LOOK®
NO-SCULPTING . NO-ETCHING . NO-GLUE!
Premium

 

thegelLOOK®

 FULL COVER 

Gel Nail Extension.
Full cover, no-well, square shape, long length to allow YOU the choice to create an elegant length and style or a shorter more moderate, active nail shape. 
The easiest, most effective and efficient way to achieve gel nails.
Suitable for both the salon professional - nail specialist or at home nail enthusiast!
Instant Perfection!
Perfect Fit & Shape.
Very strong and sturdy, yet flexible as to not crack while the

 

TIP

CLIP®

 

is applied or while clipping the length and filing to shape them.
Made with High Quality ABS material. Crystal clear so the gel light can see thru to cure properly. 
Superior bond with

 

THE

GEL®. No-Etching needed!

50 ct. REFILL PACK. 50 of one size, numbered #0-#9 - (#0 being the largest and #9 the smallest).

Additional styles available - sold separately.